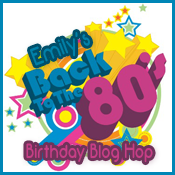 First off HAPPY BIRTHDAY to Emily!!! I hope you have a day as amazing as you are!!!!!! Thanks for letting me be a part of the celebration! :) Second, welcome to Emily's Back to the 80 Birthday Blog Hop!! If you are coming here from Tanya's blog then you're in the right place!! If you have just come across this hop, make sure you head back to
Emily's blog
! You don't want to miss any blogs on this hop, trust me!! :)
So, if you are like my husband, you may be thinking,"Hello Kitty is 80s?!?!!?!?!?". And my answer is, yes, to me Hello Kitty is 80s! :) I was born in 1983 so I don't think I remember a lot of the 80s in the same way some might... When I was a little girl I had a Hello Kitty stuffed doll that I loved and found myself thinking about years later. I even remember watching a Hello Kitty cartoon on TV! Since I know some of you - including my hubby - think I am nuts that HK was 80s.... I googled, and found this!!!
http://www.youtube.com/watch?v=yDg0uCfBWn0
So awesome, because I very vaguely remembered that I had it in the bathtub, and when I watched this it all came back to me!!!
I have been in love with Hello Kitty ever since, and when I started to see her all over the place again, I was soooooo excited!! Now I buy my girls everything Hello Kitty.
The very first thing that popped into my mind when I started brainstorming an 80s idea was the "Girls just wanna have fun" song... And of course this is soooo fitting for my daughter, Bria!! I don't know any little girls who are more fun than Bria!! She has a zest for life that I hope never fades!!!
I went with neon colors - of course! I'm not gonna lie... when I started to notice that neon was coming back in style I was very disappointed. Needless to say, I think it has started to wear on me! My girls even have some neon clothes!!
I found a pack of awesome neon Martha Stewart glitter at Michaels a couple weeks ago and I knew it would be PERFECT for this hop! I created a sparkle "splash" look on the background paper. I spritzed Goosebumps glue on the purple paper and then covered it in one color of glitter. Once it dried, I did the same with another color. I am in love with the result! It almost looks like paint splashed on the paper, except it sparkles!!
Of course no hop would be complete without some candy!!! I am giving away some Twine from The Twinery!!!
Please make sure you are a follower and leave a comment with a way to get in contact with you!! :)
Hope you liked my project!! Now onto my friend
Elizabeth's blog
for some more 80s inspiration!!!