Today it's an ANYTHING GOES day over at the Ginger Snap Scraps blog! The members of the DT got to choose any brand carried in the store and make a product! I love having theme days, but sometimes having a the freedom to make anything is so fun! :)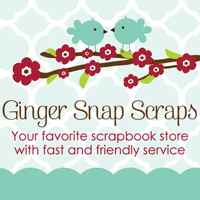 Make sure you head on over the the
to see all the great items for sale. THEN head over to the
to see what the rest of the DT has created today!!! TONS of great inspiration - this is one super talented group of ladies!!
Here is my project using Pink By Design stamps (are you surprised that's what I choose to use?!) :)
I decided to make a little box filled with Hershey nuggets for my Mom. She's so amazing and the one person who is there for me no matter what. I made this as a little Thank You for all she does for us!
I used the It's A Wrap 2 stamps for the wraps and then used a couple other Pink By Design sets to make the image stamped in the blank squares. I stamped 'Mom' from the Everyday Banners set, then popped it up with a foam sticker to give it a little dimension.
The little treat box is from Lori Whitlock and came from the Silhouette store. I added a little window in the top and used some "plastic paper" (not sure what it's really called...).
The pretty crinkle ribbon is from 3 Girl Jam. I also used the 3 Girl Jam bow maker to make this perfect bow.
Hope you loved my project today! Make sure you head on back to the
blog
to see what all the other girls have created!!! I can't wait to see!!! :)
Come back tomorrow for my Pink By Design post!! AND make sure you don't forget about the Blog Hope that starts HERE on Wednesday!!!