Hey guys!! If you've stopped by my blog this week at all you may have noticed my absence... It's been a bit of a crazy week.... We started off with the attempt at a camping trip that didn't work out so well, followed by me coming down with the flu and then a head cold for the remainder of the week. Throw that in with very little sleep and there hasn't been a lot of crafty time. :( Good news is that I'm feeling better and hoping to start catching up on sleep again!!! Here's to hoping!!
Here is the very first layout I have created using graphics and the print and cut feature on the Cameo!
And now I am totally addicted to buying graphics!! Right now I don't have time to put together all the little cuts in SVGs and Cricut cuts...
I made the words in the silhouette software and added the patterns to the letters by using digital background paper that matches the Easter Parade graphics.
Of course there is a Pink By Design stamp on the layout... This sentiment comes from the Hoppy Spring set which has some really adorable sentiments on it!
These graphics were adorable on their own, but I used my Martha Stewart glitter pens to add some pretty details to them.
I hope you loved my layout today!! :) While you are here, I have a some fun news! I'm hosting a blog hop!! Check out the button on the top left side of my blog!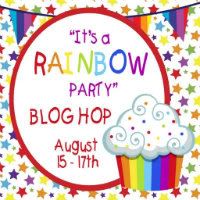 Make sure you mark your calendars or add the badge to your blog as a reminder!! :) I have some super talented crafters taking part in the hop to celebrate my girls' birthday's with me and of course there will be awesome prizes!!!
Make sure to stop by tomorrow for my Pink By Design post!!